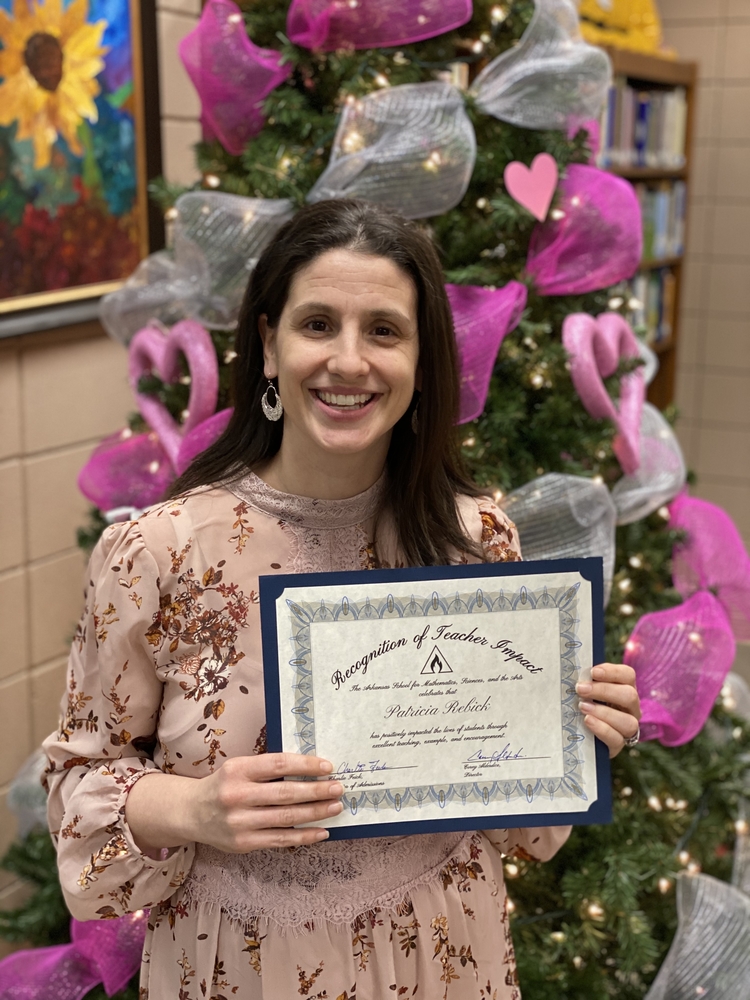 Teacher Impact Award given to Mrs. Patricia Rebick
Jenni Held
Tuesday, February 11, 2020
Congratulations to Mrs. Patricia Rebick on receiving the Teacher Impact Award though ASMSA! On January 31st two former Marion High School students, Yug Shah and Lidia Belete, recognized Patricia Rebick for this honor. Shah and Belete are current students at the Arkansas School for Mathematics, Sciences, and the Arts. Mrs. Rebick's commitment to understand, motivate and inspire her students is life changing and Yug and Lidia feel that having Patricia Rebick as an educator encouraged them to actively seek out the most rigorous academic opportunities available.
ASMSA recognizes and celebrates the positive impact Mrs. Rebick had on the lives of these shared students. The entire body of ASMSA wanted to thank Mrs. Rebick for her continued presence, engagement, and effort put forth in her teaching . Educators like her who encourage students to pursue their dreams while holding them to high academic standards demonstrate the best values of the teaching profession. Marion High School is honored to have such an educator in Mrs. Patricia Rebick and for her being the bridge that allows her students to pursue a future of academic excellence.
For more than two decades, ASMSA has provided talented and motivated students the opportunity to attend one of the nation's top public schools right here in Arkansas. ASMSA has received national recognition for its outstanding academic program, including being named to The Washington Post's "Public Elites" list that recognizes the nation's highest performing high schools. In recent years, various organizations have recognized ASMSA as a leader in offering an innovative and challenging curriculum
The Arkansas School for Mathematics, Sciences, and the Arts is a specific investment by the General Assembly in many of the state's most talented and promising young minds. Each year, students from counties across Arkansas come to ASMSA to live and learn within a community of 230 intellectual peers. The residential experience combines college-level coursework, dynamic faculty, advanced research opportunities, diverse experiences within the arts, study abroad trips, and more to create an educational community unlike any other in Arkansas.
Academic Engagement through a "College Bridge" Experience
ASMSA offers a "college bridge" program where each student earns at least 30 hours of college credit through our partnership with UA-Fort Smith. ASMSA's Concurrent Core consists of classes across composition, literature, history, global languages, math, biology, chemistry, physics, and computer science. Students must also satisfy state graduation requirements, in social sciences, art, and other subjects. Nearly 60 courses are available for college credit. ASMSA has chosen to pursue partnership credit instead of Advanced Placement coursework in order to provide our talented faculty with the flexibility to create a more dynamic and engaging set of classroom experiences for students.
College Readiness through Residential Education
While college readiness is often defined by ACT benchmarks or other standardized exams, the residential experience offered to ASMSA students emphasizes independent living, autonomous decision-making, leadership development, cultural diversity, emotional wellness, and other life skills. As students transition to life on college and university campuses, their residential education is equal to their classroom experiences in preparing them for the steps ahead.
Capstone Projects and Learning Beyond the Classroom
ASMSA students have the opportunity to conduct real-world explorations guided by faculty mentors. Students invested in STEM disciplines complete a research project on a subject of their choice, often leading to recognition at the state and international science fairs. Arts and Humanities students have the option of completing a Humanities Symposium project or a portfolio of creative works. Students interested in entrepreneurship engage with statewide industry leaders and growing startups as well as participate in business pitch competitions that introduce them to the basics of establishing their own small businesses. Study Abroad and Global Learning
ASMSA's Global Learning Program opens doors of possibility to students as they explore other languages and cultures through multiple study abroad excursions and visits from international guests. Students are also selected annually for immersion programs like the National Security Language Initiative for Youth. Over the past seven years, more than 400 ASMSA students have studied abroad.
For even more information about ASMSA please follow this link
https://www.asmsa.org/about-us/school-profile/