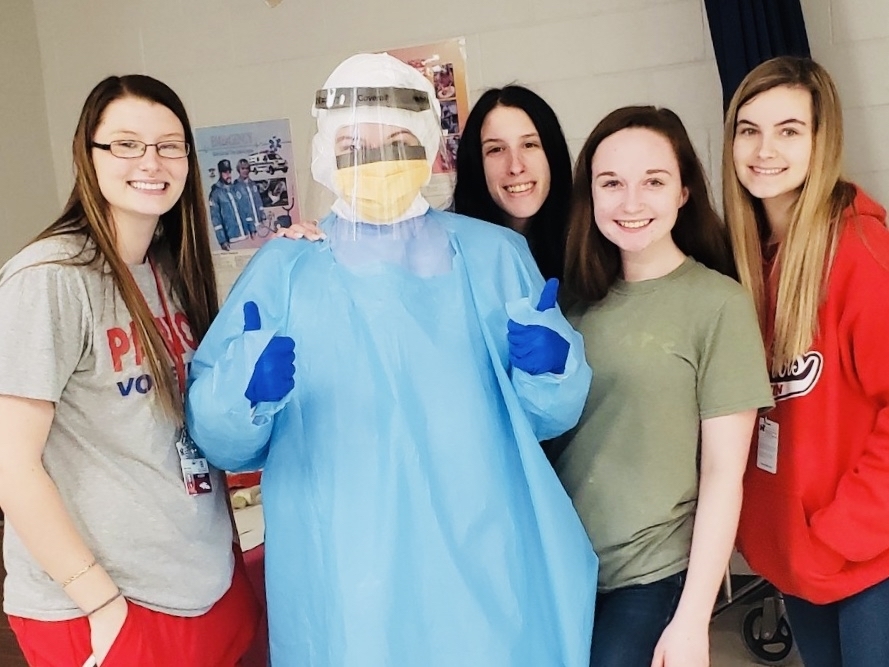 Love is in the air, but so are germs 🦠
Jenni Held
Wednesday, February 19, 2020
🤲 Sharing is not always caring, when it comes to infectious diseases like the flu, strep or even the common cold. ❤️ Last week students celebrated Valentine's Day a little differently this year in their Medical Procedures classes as they continued working on their infectious disease unit, with a hands on activity. Instead of teddy bears, roses & chocolates, students were given protective face shields, goggles & helmets! Students were shown the lengths medical personnel go through to ensure the safety of themselves as well as other patients. 😷 Medical Personal Protection Equipment was shared with the class & students were encouraged to suit up willing students and become comfortable with doing everyday medical task with the cumbersome gear on.
Personal protective equipment (PPE) refers to protective clothing, helmets, gloves, face shields, goggles, facemasks and/or respirators or other equipment designed to protect the wearer from injury or the spread of infection or illness.
PPE is commonly used in health care settings such as hospitals, doctor's offices and clinical labs. When used properly, PPE acts as a barrier between infectious materials such as viral and bacterial contaminants and your skin, mouth, nose, or eyes (mucous membranes). The barrier has the potential to block transmission of contaminants from blood, body fluids, or respiratory secretions. PPE may also protect patients who are at high risk for contracting infections through a surgical procedure or who have a medical condition, such as, an immunodeficiency, from being exposed to substances or potentially infectious material brought in by visitors and healthcare workers. When used properly and with other infection control practices such as hand-washing, using alcohol-based hand sanitizers, and covering coughs and sneezes, it minimizes the spread of infection from one person to another. Effective use of PPE includes properly removing and disposing of contaminated PPE to prevent exposing both the wearer and other people to infection.
When an infection outbreak affects a broad population in the United States, the Centers for Disease Control and Prevention (CDC), is responsible for making specific recommendations for infection control measures in different circumstances and settings. For example, the CDC has provided the following recommendations:
For more information please click on the link below...
https://www.fda.gov/medical-devices/general-hospital-devices-and-supplies/personal-protective-equipment-infection-control