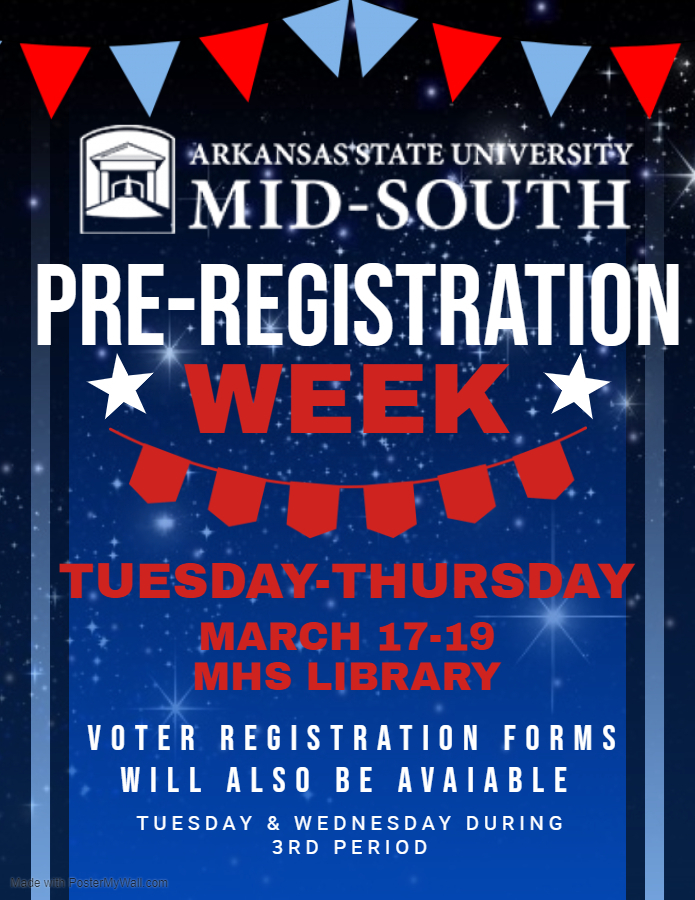 Voter registration in MHS library
Jenni Held
Tuesday, March 10, 2020
ASU Mid-South representatives will be at the Marion High School library Tuesday- Thursday March, 17-19 to advise & pre-register students for classes for the upcoming fall term.
Follow the link https://www.asumidsouth.edu/ to go directly to the ASU Mid-South web page.
Arkansas voter registration applications will also be available Tuesday and Wednesday during 3rd period in the MHS library.
Registration Requirements
To register to vote in the State of Arkansas, you must:
Be a U.S. citizen.
Be an Arkansas resident.
Be age 18 or turn 18 on or before the next election.
Not be a convicted felon whose sentence has not been discharged or pardoned.
Not be presently adjudged as mentally incompetent as to your ability to vote by a court of competent jurisdiction.
Registration Deadlines
You must submit your application to an official voter registration agency or mail it no later than 30 days prior to an election in which you wish to vote. The postmark on a mail-in application will be considered the submission date.
If you completed your application at a voter registration drive, the organizers must submit it to the county clerk or Secretary of State's office within 21 days of the date on the application or no later than 30 days prior to the next election.
If you submit your application close to an election registration deadline, you are strongly advised to follow up on your registration status with your county clerk before Election Day.
If an election deadline is looming, there is one method of application that will ensure your eligibility: apply in person with your county clerk.
If you have not received verification from your county clerk, be sure to confirm your registration BEFORE Election Day.
If you have moved from one county to another within Arkansas, you must update this information with the county clerk no later than 4 days prior to Election Day via a Voter Registration Application.
For more information about the voter registration process click the link below:
https://www.sos.arkansas.gov/elections/voter-information/voter-registration-information