When Dr. Glen Fenter became superintendent of the Marion School District five years ago, one of his first – and most important – objectives was to hire a new high school principal.
The district had received several strong applications, but none seemed to be the right fit. For Fenter, it was vitally important to find someone with the right blend of vision, experience, and leadership to lead MHS into the next decade. It had to be an individual who could connect with students, lead staff, and build a successful team. The process dragged on for weeks.
"Truly, I prayed every day that God would send us that right person," Fenter said. "Little did I know at that time that God had already placed that right person in the district, and I was just too dumb to know it."
That person turned out to be Paul Johnston, who was then in his fifth year as the district's athletic director, following a successful 20-year career as a teacher and coach at Bald Knob. Seeing Johnston's leadership skill as athletic director, and seeing the need at the high school, Fenter saw an opportunity. He reached out to Johnston with the job offer, and after a little cajoling, Johnston accepted.
It turned out to be the perfect fit. Now, five years later, Marion High School's track record of growth and achievement offers proof of Johnston's talent, dedication, and leadership.
"What Paul and his team have accomplished is nothing short of miraculous," Fenter said. "Their efforts have, and will continue to, positively impact the lives of thousands of our students for years to come. In the process, Marion High School has become a shining star in both our region and our state. The Marion community and the Marion School District owe Paul a great debt -- one that can never fully be repaid."
But with the end of the school year, so comes the end of the Paul Johnston era at Marion High School. Following a three-decade career in education, Johnston is retiring – headed back to Bald Knob to spend well-deserved days relaxing, traveling, and spending time with family.
Looking back at his decade at Marion, Johnston said he takes great satisfaction in seeing the place that Marion High School has become.
"One of the things I'm most proud of is the work our crew has done here at the high school to make this a really good place to come for a quality education," Johnston said. "There's a lot of really good things Marion High School can offer. I've enjoyed seeing so many kids earning athletic scholarships, and band scholarships, and cheer scholarships, and academic scholarships. I'm proud of that, all around. You've got to have good people to make that possible, and we have good people here at Marion High School."
It's those people – staff and students alike – that Johnston said he will miss the most.
"You don't realize how many kids look forward to seeing you each day, and having a conversation with you," he said. "I've always tried to include everyone at all times. People have told me that's rare, but it shouldn't be. I don't care if someone is the richest or the poorest, or the cleanest or the dirtiest – it doesn't matter to me."
Upon Johnston's retirement, MHS staff created a tribute video, sharing their gratitude for Johnston's leadership, service, and friendship. Nearly 50 staff members contributed to the video. Below are some of the highlights:
Lauren Brinkley, school improvement specialist:
"Six years ago, when you popped in my interview, I never in a million years would have imagined just how much of an impact you would eventually have on my life as an employee and as an individual. I think you have an incredible gift of seeing people, and helping people see how much they're valued. I've seen that every single day I've known you, in the way that you connect with our students. You never miss a chance to check in with them. You never miss an opportunity to show them they have someone here at Marion High School who accepts them and who is in their corner, no matter what is going on in their lives. As a teacher, I always knew you had my back. What I appreciate about you most is that you are never, ever, ever afraid to stand up for what's right, even when it's inconvenient or difficult, and this is a quality I hope I can emulate in my career and in my life."
Tim Ginn, teacher, golf coach:
"Like a Baptist preacher, I have three points I'd like to make as I thought about you and your tenure here. I met you first when you were the athletic director, and you transitioned from there, stepped in as principal, and you've done a great job. You were a great principal and a great athletic director. And the reason is my first point: You have enthusiasm for kids. It was evident – it is evident – that you are rooting for our kids. It's most obvious on the athletic field because of your booming voice and your energetic ways on the sideline. I think that's great. The kids see that, and they know you are pulling for them. Number 2 is your expectations for students. It's evident you want the best for our students, whether it be behaviorally, or academically, or athletically. You expect best efforts. And that translates. Kids understand that. Last is your love for faculty, and students, mostly. The kids know you love them. I see it. Everybody recognizes that you really do have a heart to match your body. It's a huge heart, and I know you love others. I'm proud to call you my friend."
Monty Hill, director of bands:
"In my 35 years of teaching, I have never had a principal who was as positive of a role model for teachers and students as you. You have influenced me greatly in our short time together, and I am going to miss you more than I can possibly ever imagine at this point. I hope you know that you are really such an influence on everyone, but particularly, as a band director, having someone that understands the needs of students, the needs of a program that is developing as ours, and how much you actually care about everyone that works with you and works for you. You are the man."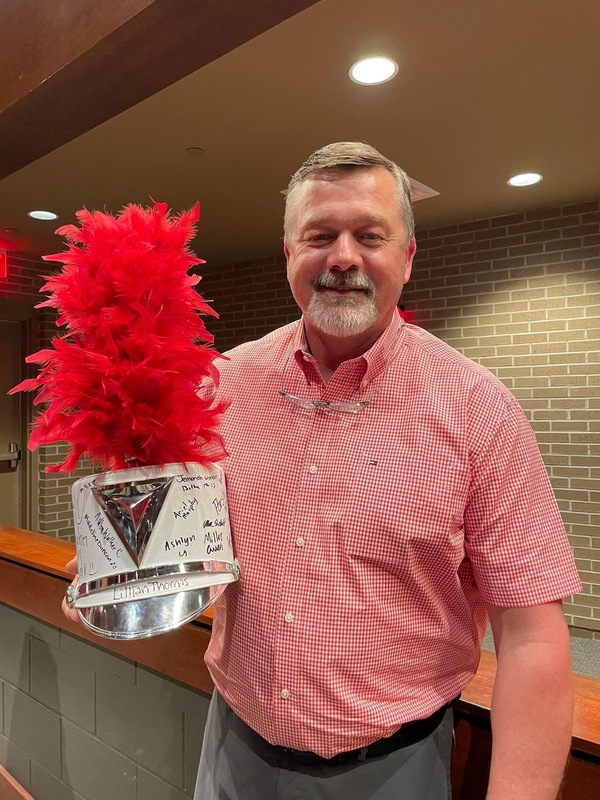 Shunda Johnson, girls basketball coach:
"My favorite memory of Coach Johnston is when our girls basketball team won the 6A state basketball championship. I think I was still in a state of shock, and Coach Johnston came down to the floor and he looked at me, and I looked at him, and he gave me the biggest hug. I think that was the first time I really ever hugged an administrator, so that was a fun memory. I was grateful that he was a former coach, so he really understood the discipline and the expectations and standards that we ask of our student-athletes. When he became principal, he made sure he treated our kids with fairness and respect, and he really looked out for us, and always had our backs from both a coaching standpoint and a teaching standpoint."
Emily Hall, assistant principal:
"You always encouraged me to take care of home first and reminded me on several occasions to go home at the end of the day and to worry about work tomorrow. But at the same time, you expected me to be good at my job and you pushed me to be good at things at school. You knew that even though I had a lot of responsibilities at home, that I could do both, and I could have a lot of responsibilities at school, and take care of those things. And I'm really, really grateful that you encouraged me to do both and to do both really well. You were a very special boss to me, and I'm very grateful."
Farrah McFarland, teacher:
"I think you've been the best principal I have ever worked with. Whenever you first came, I didn't know that much about you. I knew I loved your wife – she was hilarious and was a good teacher, and I really liked her. When you came as principal you came in and you built a really, really strong team here. You've always been very, very supportive of the teachers, of the students. You made this a really good place to work -- a safe place to work. You always stand behind the teachers. You take up for our kids. I can't think of any negatives about the time that you were my boss here. You have been a wonderful leader and a wonderful principal. You have been supportive. You listened. You were principal during the roughest time I've ever had during teaching, which was during Covid. I hate that we're losing you, but you certainly deserve your retirement. I wish you and Deana the best. We will certainly miss you here."
Kissy Turner, assistant principal:
"I am so proud of you. You have been such a great leader here at Marion High School. I have the utmost respect for you. I am so happy that you reached this milestone in your life. You know, there are so many things I could say … I just want you to know that I love you so much. I believe you have completed your assignment that God put you on for students and children of this community, and I know that you've done a great job, so I know you will be blessed in the future. I just want you to know that I am forever grateful to you, appreciative of you, and I will forever, forever, forever love you. You have really touched my life; I know you've touched the lives of students here."
Jenny West, teacher:
"I just wanted to take a minute to let you know how much I appreciate you. You have been such a wonderful principal to me. But like I always tell you – you're my second favorite -- Elmer being my first favorite principal. But I just wanted to let you know how much I appreciate you taking me in over here at Marion High School and allowing me to start the JAG program. I found my passion again. I appreciate the fact that I have been able to come over and do that. I wish you all the luck in the world with retirement. I'm always so excited for someone when they can retire and get to do what they want to do. Thank you for all you have done for me and my family.
Jonathan Crymes, assistant principal:
"I'll always cherish the moments we were able to coach football together back in Bald Knob, all the way to you calling me to tell me I was going to work side-by-side with you in administration here at Marion High School. Thank you so much for everything you've done for me and my family. All of our colleagues here at Marion High School, we love you, we are so proud to be able to call you our boss, but more importantly, we were able to call you our friend."
Dr. Glen Fenter, superintendent
"Personally, I've come to know and love and greatly respect Paul, despite my full understanding that I've done very little in our five years working together that he has not found some modicum of fault with. I do sincerely wish Paul and Deana only the best in retirement. I want to sincerely thank you, Paul, for your service to our country, and your service to this community, the Marion School District, and the faculty and staff of Marion High School."
The Marion School District is an innovative and growing district committed to helping every student find their unique path to success in school and in life. With more than 150 years of experience serving families in Crittenden County, the district offers a high school, a junior high, and three award-winning magnet schools. For enrollment information, including information on school choice, visit https://www.msd3.org/ or call 870-739-5100