While seven victories on the field was Marion's most prosperous season in that department since 2018, the Marion Patriots Activities Network (MPAN) also enjoyed a banner fall.
A new record total of 25,438 viewers tuned in this season to watch Marion football on MPAN, shattering the previous record of 19,952 viewers of a year ago.
That mark was good for an average of 2,312 viewers per game, with five games attracting 2,000 viewers or more. An MPAN record 5,989 viewers watched Marion top West Memphis, 16-12, on October 14.
"This couldn't have happened without the incredible investment by our administration and our unbelievable community," said Marion School District communications specialist Chuck Livingston. "The idea that people care enough about this program to tune in and watch these broadcasts is really incredible and exciting. I can't thank our fans and parents enough."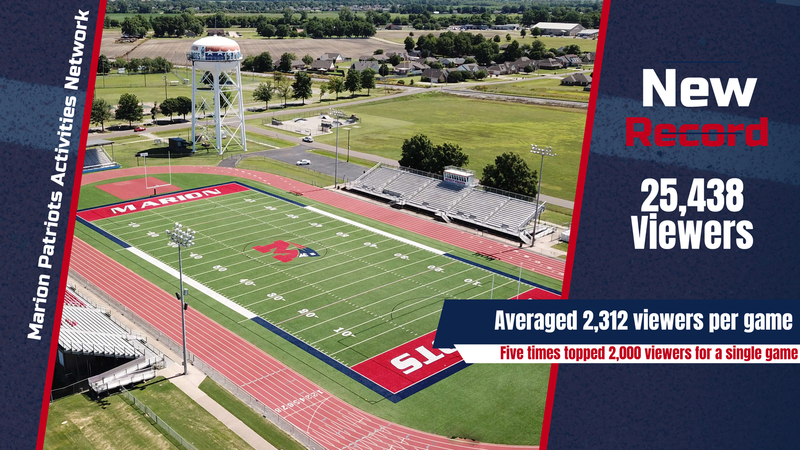 Livingston produces the football broadcasts while keeping stats and doing play-by-play commentary of the game, while Marion High School Assistant Principal Jonathan Crymes, and his extensive history of coaching high school football, offers color commentary. Mary Claire Reece joined the MPAN team in September for the first time since graduating from Marion High in 2020. Reece made her directorial debut October 21 for Marion's game at Sheridan.
"We have the best team in the state," said Livingston. "Mr. Crymes is a football expert and is able to explain why teams are doing what they're doing and why they're successful. That's knowledge that you have to earn through years of living and breathing it. Mary Claire has really given us a lift since she came back to us. She's great at what she does and is very meticulous, making sure that everything looks good on camera. She's a real pro and we're lucky to have her."
Marion's season-opener at Wynne drew 1,413 fans, but the Pats' home opener on September 9 against defending Class 6A state champion El Dorado attracted 3,246 fans, who watched the hosts claim a dramatic 27-23 victory.
A total of 1,058 people watched Marion juke Jacksonville, 49-18, on homecoming, and 1,150 fans tuned in as Marion downed Greene County Tech on September 23. A season-low 918 fans watched Marion's home loss to Benton on September 30, which fell in the middle of the Marion School District's annual two-week fall break.
Marion's October 7 road date at Searcy drew 1,488 viewers to watch a 57-28 mercy-rule conquest one week before the MPAN-record West Memphis game on October 14.
Marion traveled to Sheridan for a conference game for the second season in a row on October 21, and 1,645 viewers saw a 43-7 Patriot win. The Pats celebrated Senior Night on October 28 against Sylvan Hills with a 27-23 win in front of a strong home crowd and 2,147 viewers at home.
Marion traveled to War Memorial Stadium on November 4 to play 9-0 Little Rock Catholic for a share of the 6A East title, and though the Rockets won, 2,542 people watched the game.
The second most viewed game in MPAN history attracted 3,842 viewers November 11, despite a 23-6 Mountain Home victory.
MPAN is an advertisement-driven broadcasting service that offers free events to viewers of various events around the Marion School District. Landon West and Tyler Bennett launched MPAN in 2018 as a way to publicize and promote Marion's student-athletes more easily.
Bennett and West's game broadcasts gained more notoriety through the years, peaking in July 2021 when MPAN won a pair of national awards from Mascot Media, including best school-run broadcast team and best school network.
Livingston succeeded West in July 2021, but MPAN remained on top of the high-school athletics broadcasting scene for the 2021-22 school year. MPAN earned three national awards from Mascot Media in 2022, repeating as the best school-run broadcast team, while Ryan Forrest's dunk against Lake Hamilton earned Play of the Year, and Marion volleyball's five-set victory over Greenwood in the 2021 Class 5A state volleyball tournament earned Mascot Media's Event of the Year.
The Marion School District is an innovative and growing district committed to helping every student find their unique path to success in school and in life. With more than 150 years of experience serving families in Crittenden County, the district offers a high school, a junior high, and three award-winning magnet schools. For enrollment information, including information on school choice, visit https://www.msd3.org/ or call 870-739-5100.