For years, the state baseball and softball title has gone through Marion figuratively.
This May, the crowns in those respective sports will also literally go through Marion.
The Arkansas Activities Association announced late last week that Marion would host the Class 5A state baseball and softball tournaments, which are scheduled for May 11-13. The first day of the tournaments, on Thursday, May 11, will bring 32 teams to the community, playing a total of 16 first-round games (eight for baseball and eight for softball).
"We couldn't be more excited about our community hosting the state baseball and softball tournaments this spring," said Marion Mayor and former city chamber of commerce director, Tracy Brick. "It's such a positive for people from every part of the state in this light. It's a credit to the Marion School District for all of the hard work and investments they've made in those facilities."
The city of Marion also expects a financial bump from hosting the tournaments. When the 2021 Class 5A state volleyball tournament came to Marion, local businesses enjoyed a financial windfall that could be even more robust in May with twice as many teams visiting.
"We are proud of the six or seven hotels we have here, and they will certainly benefit from visitors," said Brick. "That's not to mention the restaurants that will definitely benefit from the teams and parents. This will help the city in a big, big way."
First National Bank of Eastern Arkansas Stadium and the Marion Softball Complex will take center stage for the tournaments, with the state finalists advancing to the finals the following weekend, with those games will be played in Conway.
The top four finishers from the four conferences in Class 5A qualify for the single-elimination state tournaments in baseball and softball.
"We are excited about having teams from across the state visiting us and playing big games in our beautiful stadiums," said Marion Athletic Director Derek Harrell. "We are really proud of the improvements we have made recently at our facilities, and we are looking forward to having the biggest games here this spring."
Marion's spring sports facilities have undergone myriad improvements over the past few years. FNBEA Stadium, home of John Robbins Field, now boasts an artificial turf field, with bullpens, new bleachers, and a press box, as well as a hitting facility and locker rooms.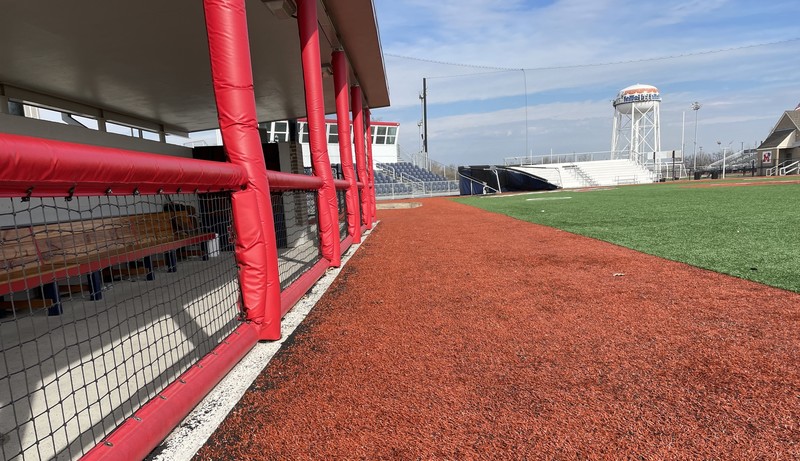 The new softball facility was completed last fall, and it too has an all-turf field, new seating areas and press box, as well as a state-of-the-art indoor facility that hosts batting cages and locker rooms.
"With the quality of our facilities on campus, particularly the turf fields, we are confident that we can play through any delays or rain that we might see," said Harrell. "That's just one piece of the puzzle, but it's a big one. We didn't have any rainouts at home last year for baseball. In fact, we added a few home dates due to the rain, so that's huge for our school, and will be really big for a state tournament where the schedules are so tight."
Marion hosted the 2011 Class 6A state baseball tournament, when eventual state champion Jacksonville eliminated the Pats in the semifinals. The Patriots went on to play for the 2014 Class 6A state baseball title before earning last season's Class 5A baseball crown. The 2022 Patriots finished 29-5 en route to the 5A East title, before vanquishing Van Buren 11-6 in the state championship game at Benton.
Marion also hosted the 2015 Class 6A softball state tournament. That season's club earned a share of the 6A East league title before advancing to the semifinals where eventual state champion Sheridan stunned the hosts 4-0. Marion has advanced to the quarterfinals the past two seasons, and this year's Lady Pats boast seven seniors, all of whom are expected to take on big roles on the club.
"With both our teams having been extremely competitive lately, and having state championship aspirations this year, it certainly adds to the benefit of hosting the state tournament," said Harrell. "We certainly appreciate the AAA teaming with us to have it here in Marion. I know our coaches and players are excited about it, and I know the community will be, too."
The Marion School District is an innovative and growing district committed to helping every student find their unique path to success in school and in life. With more than 150 years of experience serving families in Crittenden County, the district offers a high school, a junior high, and three award-winning magnet schools. For enrollment information, including information on school choice, visit https://www.msd3.org/ or call 870-739-5100.