When putting together a team of any sort, there has to be a management system. This statement could not be more true than looking at the students working as team managers for various sports teams in the Marion School District. These students work, often behind the scenes or on the sidelines, to better their teams and better prepare them for whatever challenges they may face.
Girls soccer manager Alexis McCowan and Lady Patriot volleyball manager Cheyenne Kight found their love for managing through their prior experience playing their respective sports. For Knight, her love and passion for volleyball brought her into the team during her 8th-grade year as a manager. Over the last five years, she has supported her volleyball family. McCowan found the manager position as a way to be a part of her beloved sport.
"The main thing I've learned is that despite the differences you may have, friendships can blossom anywhere," said McCowan. "And those friendships can lead to the most amazing memories that you'll hold onto forever. There is also a lot that people do not see, such as organizing paperwork or assisting in the junior high tryouts. I like to keep Coach (Chris) Paslay on his toes."
"If I have to choose one thing I have learned over my five years of experience, it would definitely be that these girls are not a team," said Kight. "They are a family. They work together and grow together. You have a lot of responsibilities, a lot of tasks, but you do it together. It's this beautiful support network."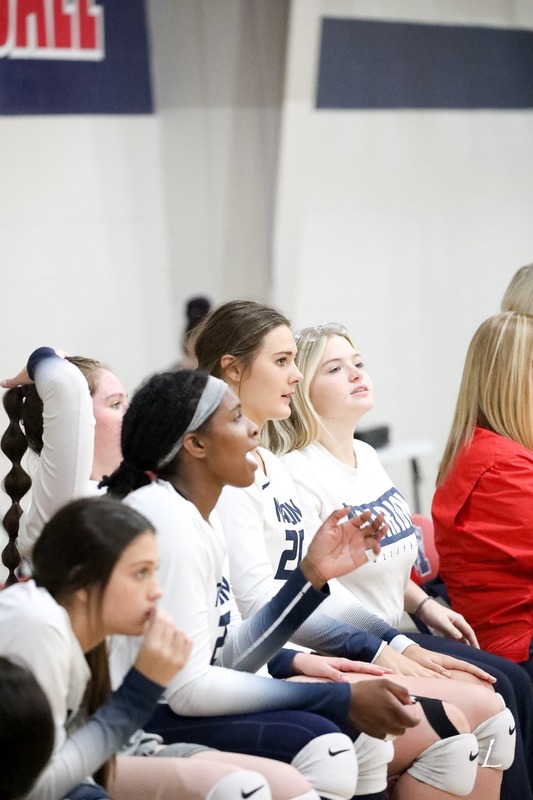 Behind the scenes, managers spend a lot of their time supporting teams in practices and team building. This sentiment was best expressed by Lady Patriot basketball manager Kamyiah Calloway and football manager Larissa Firethunder.
"What many people do not see are the hours and hours of practice on fundamentals, leadership skills, and character development," said Calloway. "Sometimes we get together outside of school and people see us having fun, but we are really strengthening our team and family bond. This helps us be a cohesive unit."
"Because there are so many of us, it can sometimes seem like we're not doing a lot of work," said Firethunder. "Really, we're all working to get our tasks done as a management team. Our main jobs as managers is making sure they stay hydrated and have water during practice and games. We also help clean the locker room, office, field, and fieldhouse if extra hands are needed."
Many current team managers are wrapping up their high school career in the spring of 2023; however, there is no lack of dedication and skill within the up-and-coming students in MHS sports management. Brayden Derrick tried his hand at volleyball management, working with the team and assisting with practice drills. In the spring, freshman Matti Fortenberry will showcase her skillset as a baseball manager while also competing in competitive cheerleading.
"Over the time working for the team, I have learned that these girls work so hard," said Derrick. "They have definitely become family to me during my first year working with them!"
"All of my cousins have played baseball, so I have grown up around it, going to all of their games and attending lots of baseball games," said Fortenberry. "So when there was an opportunity to do this I got very excited to try to be a part of it."
Special mentions to MHS managers:
Volleyball: Cheyenne Kight, Brayden Derrick
Football: Madysin Jones, Larissa Firethunder, Falencia Selvy
Girls Basketball: Brooklyn Kimble, Kierra Smith, Kamyiah Calloway, Chelsea Curtis
Baseball: Logan Shelton, Alayna Miller, Zoe Conlee, Matti Fortenberry
Softball: Elaina Lawhon
Girls Soccer: Alexis McCowan
The Marion School District is an innovative and growing district committed to helping every student find their unique path to success in school and in life. With more than 150 years of experience serving families in Crittenden County, the district offers a high school, a junior high, and three award-winning magnet schools. For enrollment information, including information on school choice, visit https://www.msd3.org/ or call 870-739-5100.