Make plans to join the MJHS and MHS Bands on Tuesday, December 10th for their winter concert! Performances will include the 7th-Grade Beginning Band, 8th-Grade Band, 9th-Grade Band, High School Band, Jazz Band and more! 6:00 PM at the Marion Performing Arts Center. Hope to see you there!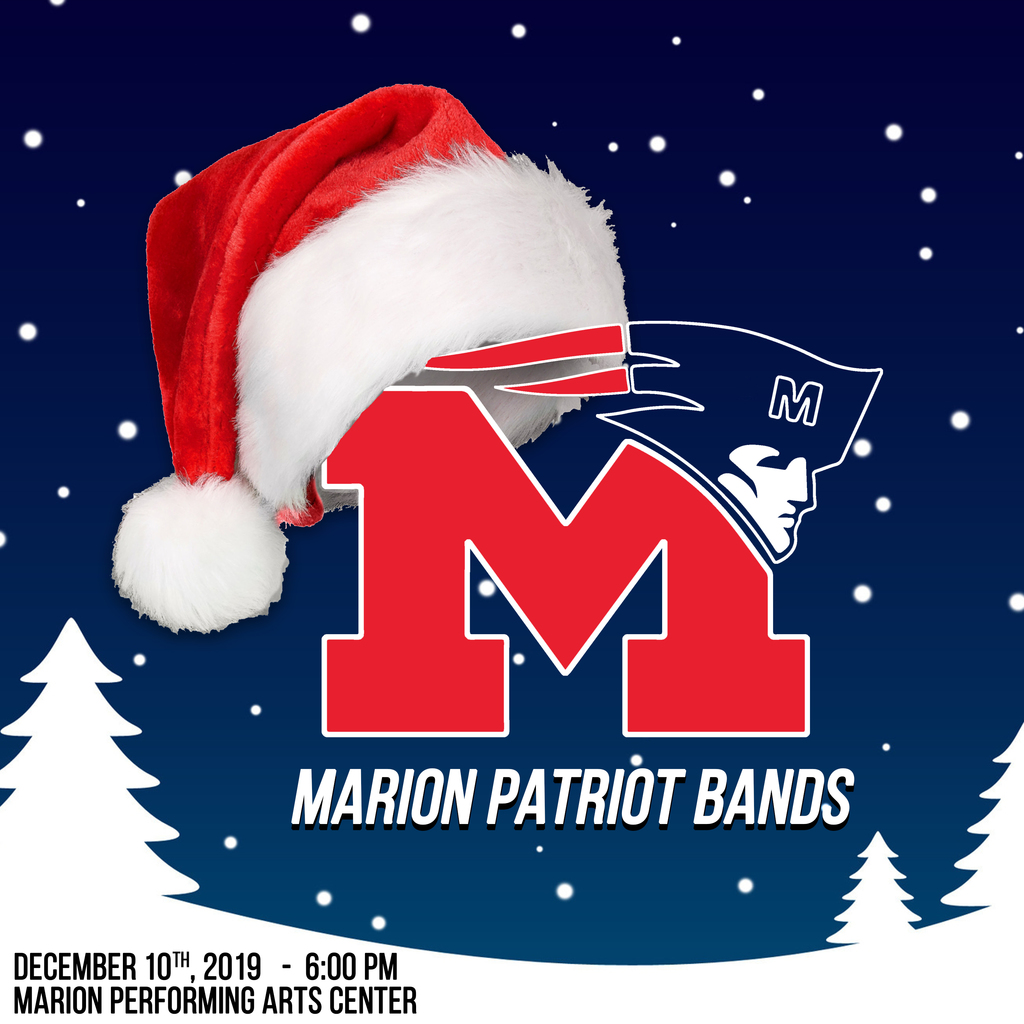 'Tis the season for giving! MHS is having it's annual canned food drive starting today December 2-12. Boxes will be placed in the main office as well as many classrooms that are participating in collecting canned food items for Hope House. The holiday season is full of opportunities to give to those who can't afford to put nourishing meals on their family's table. And we desperately need to take advantage of these opportunities. Though hunger may sound like a problem of the past – since obesity is often the more visible and talked-about issue – this is far from the truth. More than 49 million Americans live in food-insecure households, and 16 million of these people are children. What hungry families need is not the Kraft Mac & Cheese that's been sitting at the back of our pantry for two years, or the ketchup we never got around to using. Rather, they need healthy, high-quality foods that promote good eating habits any improved overall health. Below is a link with even more information & suggestions for what is the best foods to donate and why...
https://eating-made-easy.com/10-best-foods-donate-food-drive/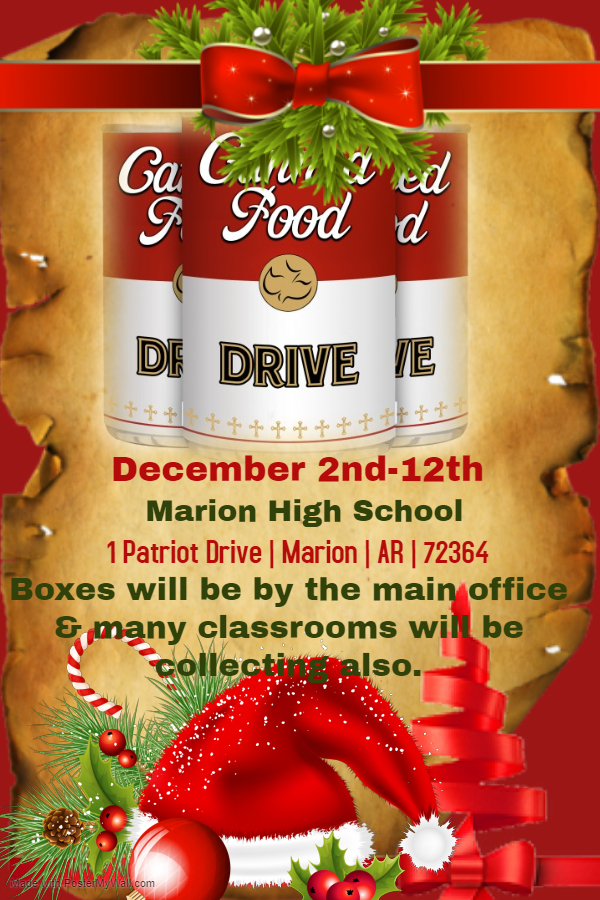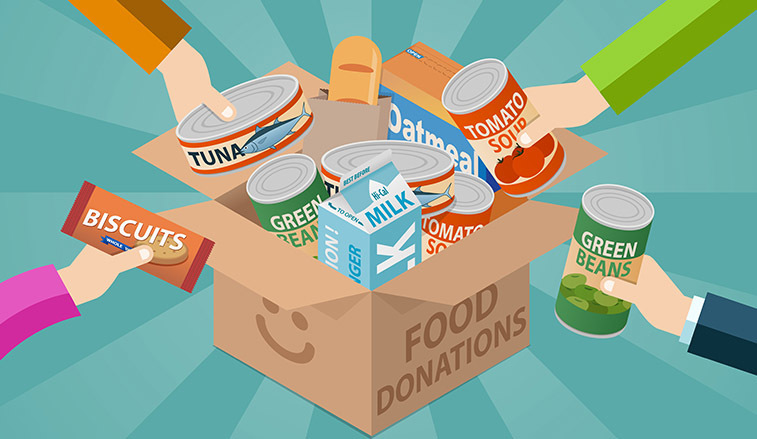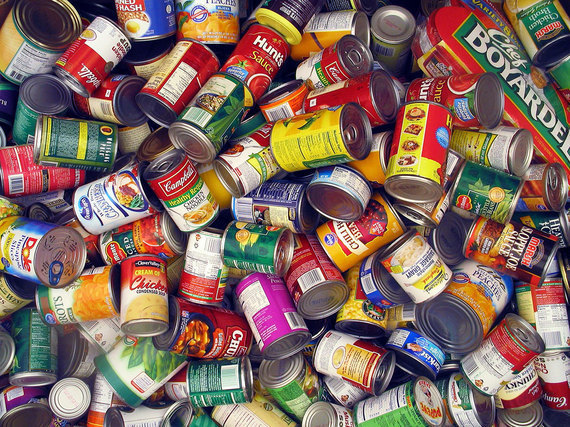 As an introduction into the probability unit in AP Statistics, Farrah McFarland's students watched and discussed the game show, Deal or No Deal. The students played the game in class, and throughout the game they discussed the changing probability (as the number of cases decline) in winning a high amount. They students weighed their odds in whether they should settle for a small offer or continue playing for a large amount. Click the link for more photos....
http://bit.ly/2qE6Pi1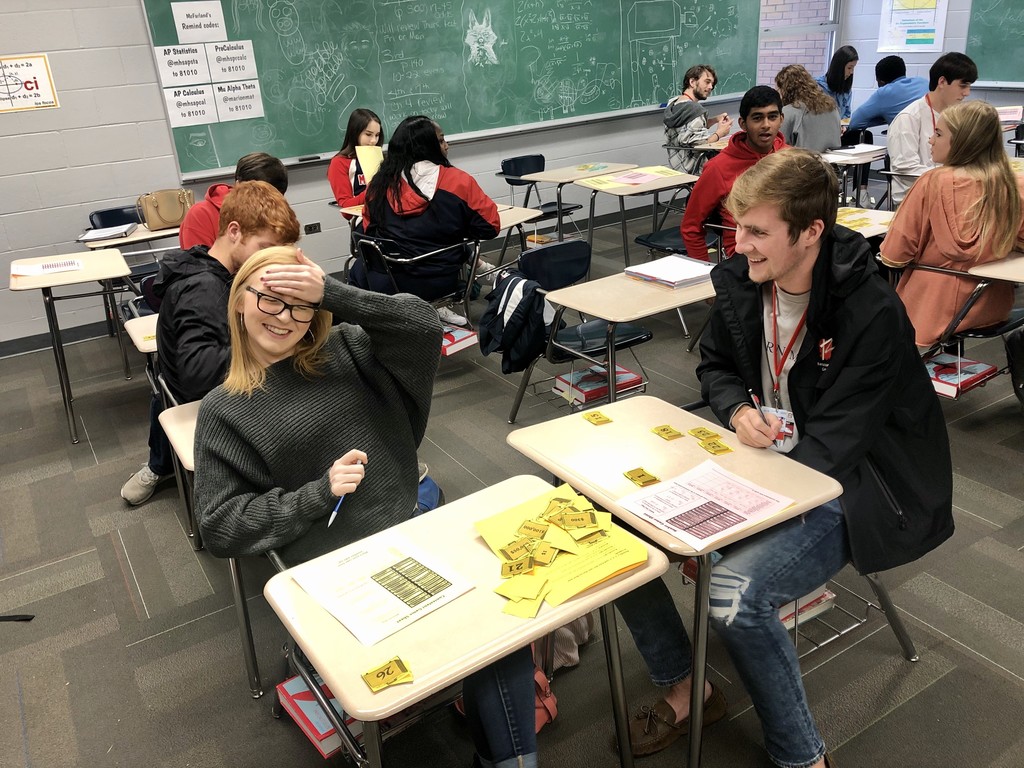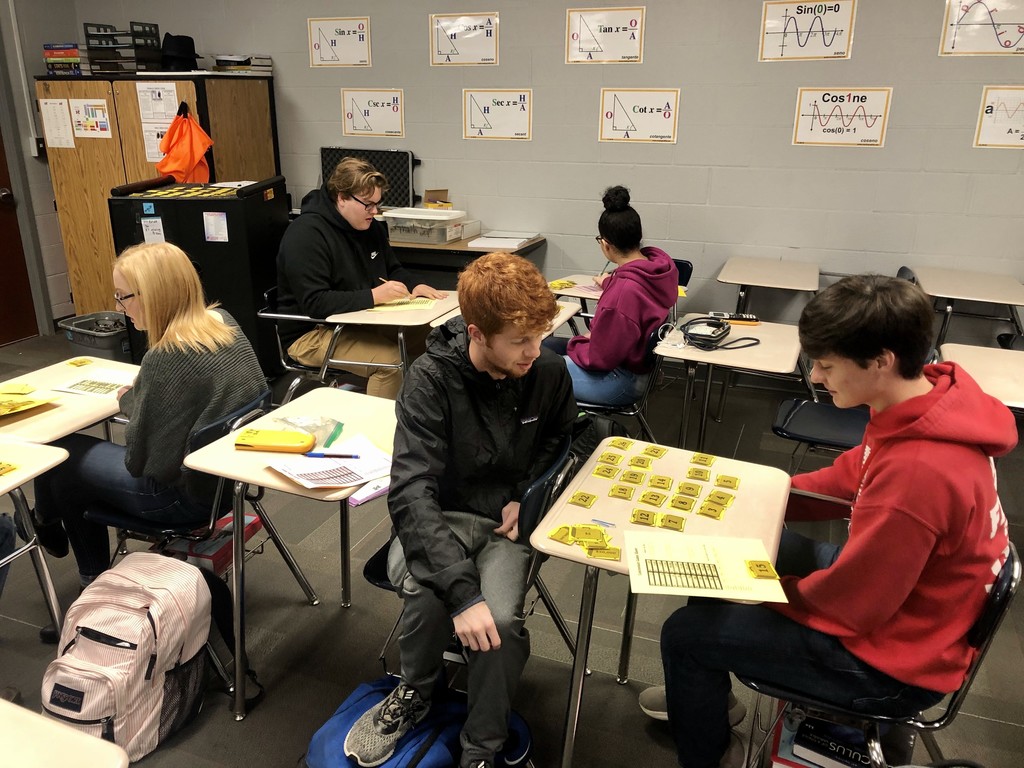 Sound Fuzion is coming to the MPAC again this year to perform for the MHS students! Sound Fuzion is a contemporary student music ensemble from the University of Memphis whose mission is to entertain, educate, inspire, and inform. Our repertoire includes all forms of contemporary music including current and classic pop, rock, country, and R&B. Sound Fuzion is made up of nine singers, a five-piece rhythm section, two audio engineers, and a performance and marketing/media coordinator. Our creative team of students is directed by faculty members, Lawrence Edwards and Jon Frazer, who guide the group on its musical journey. Sound Fuzion tours throughout the mid-south, performing for corporate events, schools, universities, and city functions. Being in Sound Fuzion offers its members a one-of-a-kind opportunity to create music, learn the ins-and-outs of performing / touring, all while pursuing a degree of choice with a full tuition scholarship at the U of M. For 30 years, passion, dedication, talent, and professionalism have made Sound Fuzion one of the most respected ensembles of its kind. For even more information about this dynamic student group click the link below!
https://www.soundfuzionmemphis.com/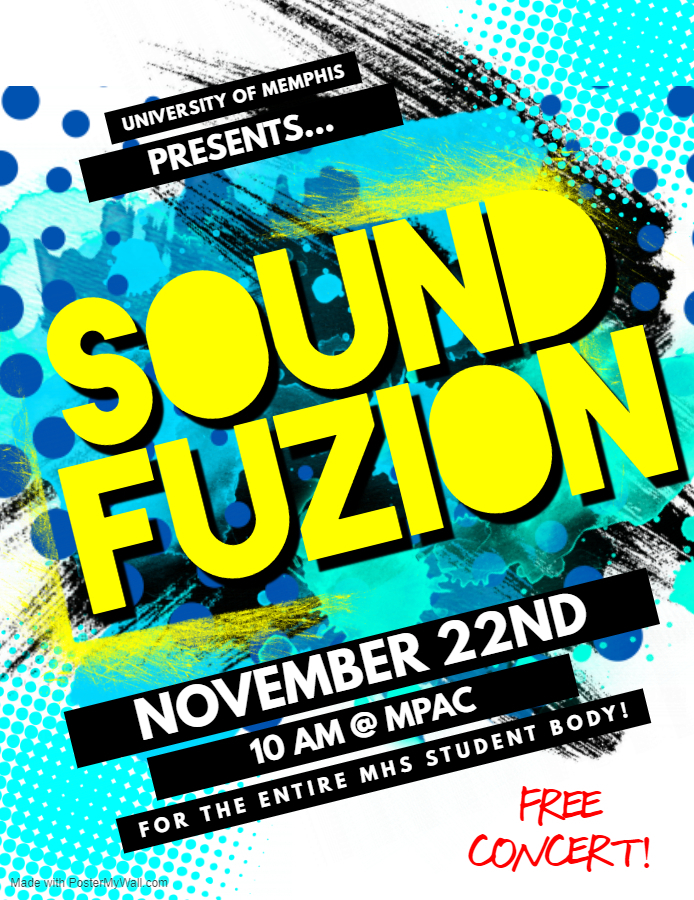 Bonjour! Students in Ms. Rich's French classes have received letters from their new French-speaking penpals. Over the course of this school year, the Marion students will be corresponding with this group of students from France. These students are learning English as a second language at the Collège Don Bosco in the Mayenne district of northwestern France. Their teacher Séverine Bourgneuf and the MSD French teacher Amanda Rich have been working together for the past year to connect their students across the globe. In addition to practicing their language skills, the students in both countries are able to learn more about each other's culture through these letters. Marion students are also realizing just how much in common they have with teenagers from France. C'est fantastique!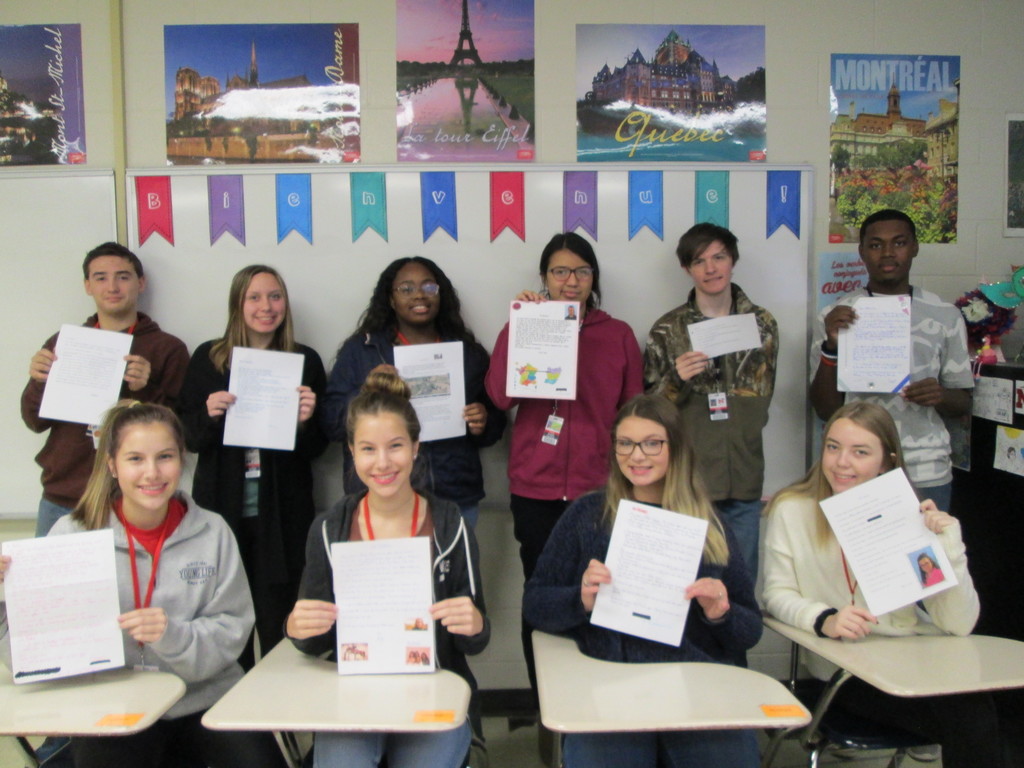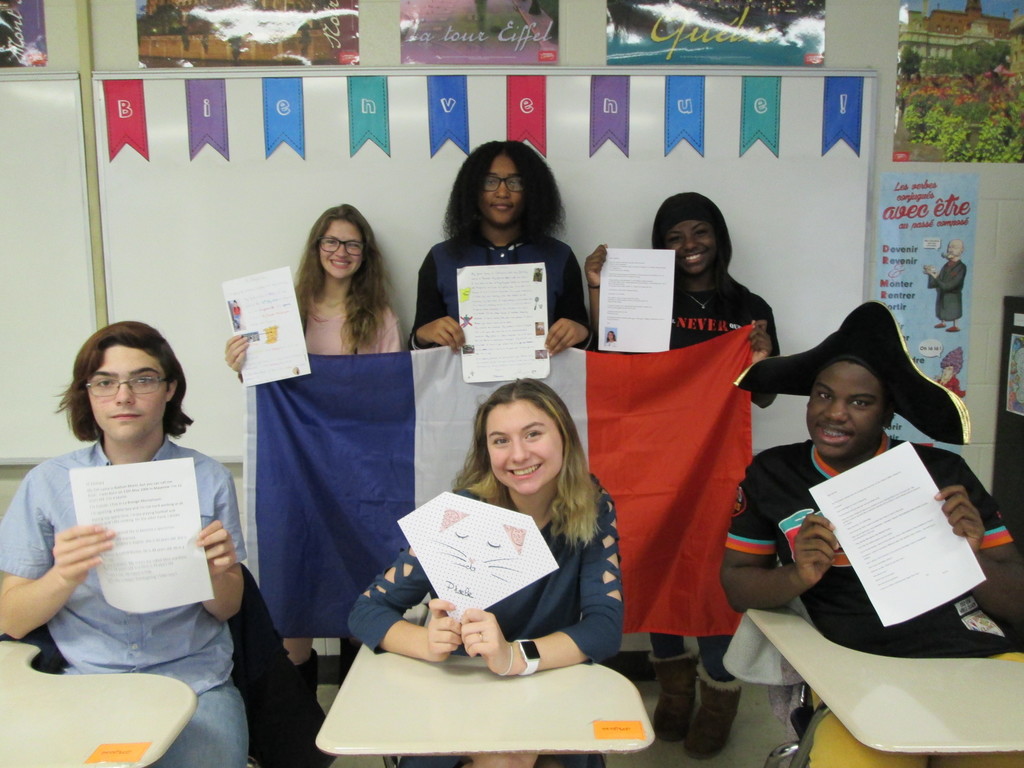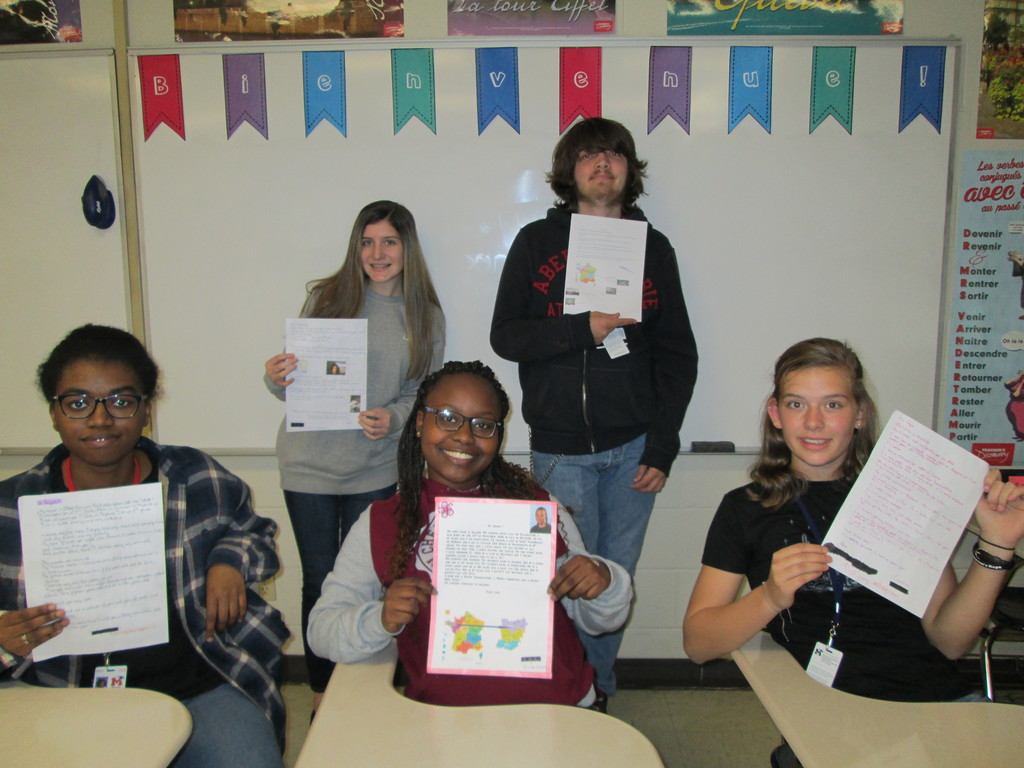 Patriot Nation: Funeral services for Elmer West will be held tomorrow Monday, November 18, 2019 at 2:00 p.m. at the Marion Performing Arts Center. Clearly, his passing leaves a huge void in both the Marion School District and in our community. In an effort to afford as many associated with the Marion School District as possible an opportunity to attend the services, ALL MSD Schools will dismiss at 1:30 p.m. tomorrow. We apologize in advance for any inconvenience.

The Marion Patriot family lost one of our finest last night with the passing of Elmer West. Elmer made a great impact on so many in our region. Patriot Nation please keep his wife Jenny, his sons Landon and Caleb, his daughter-in-law Julie, his sister Melissa Kohl and their families in your thoughts and prayers. You are all loved and he will be greatly missed by so many.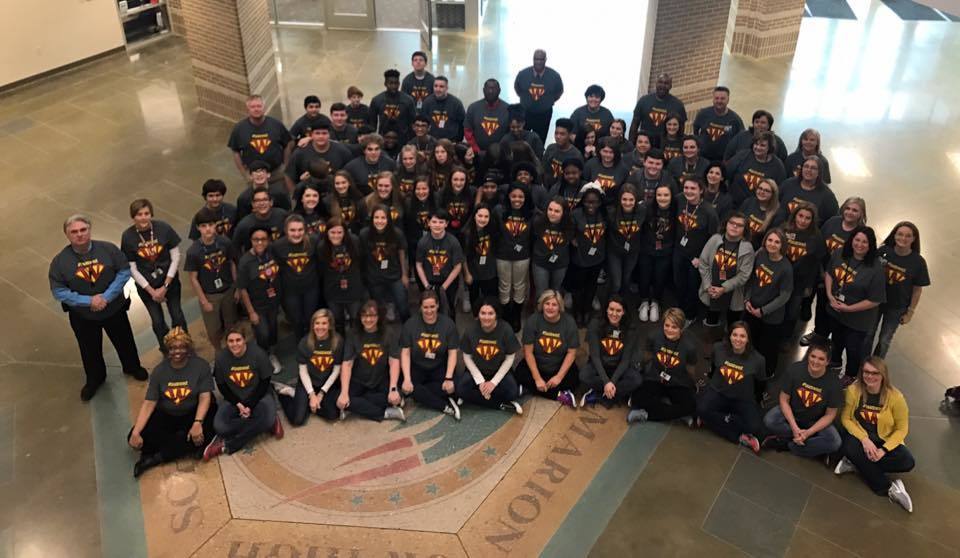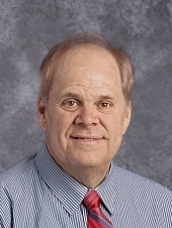 Attention Marion Patriots: The dinner program is cancelled tonight, November 14th. It will restart Monday, November 18th from 4 to 5:30.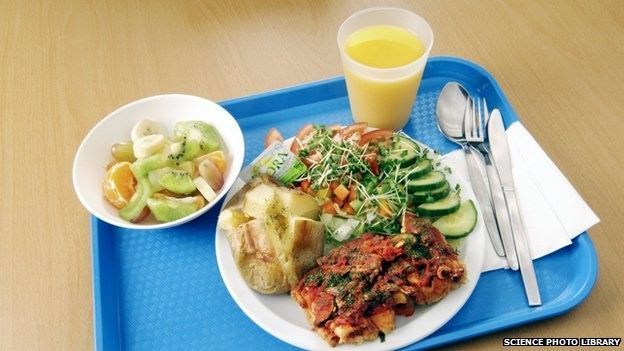 Due to a broken water line, Marion High School will be closed tomorrow Thursday, November 14th. All other schools in the district will be open. ASU students will need attend class at ASU. Thank you! Paul Johnston Principal Marion High School

Attention Marion Patriots: The dinner program is cancelled tonight, November 13th. It will restart tomorrow November 14th from 4 to 5:30.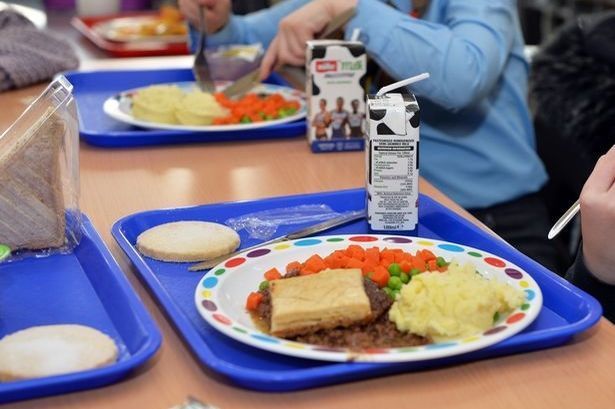 Basketball season is fast approaching...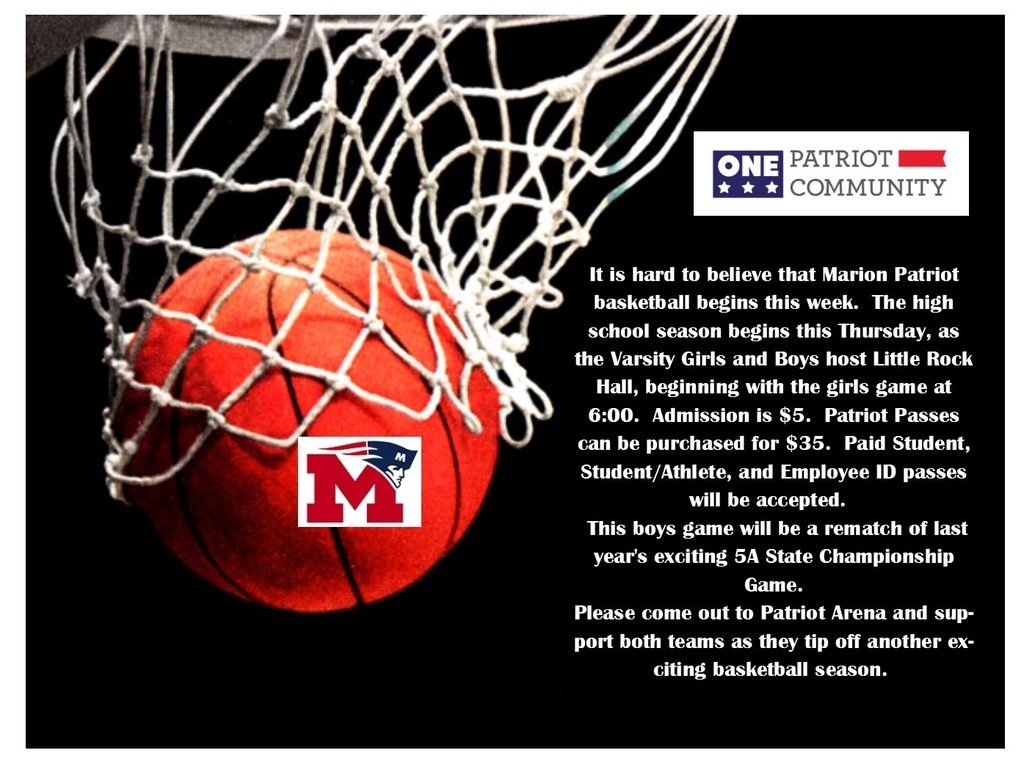 The Marion Patriots will host the Siloam Springs Panthers Friday in the first round of the 6A State Football Playoffs.  We hope you can come out and support the football team, band, and cheerleaders. Game time is 7:00 Admission is $6-- This price is set by the Arkansas Activities Association.  Also, only 2019-20 AAA Passes will be accepted.  NO Patriot Passes or Marion student/athlete or employee ID passes will be allowed for admission.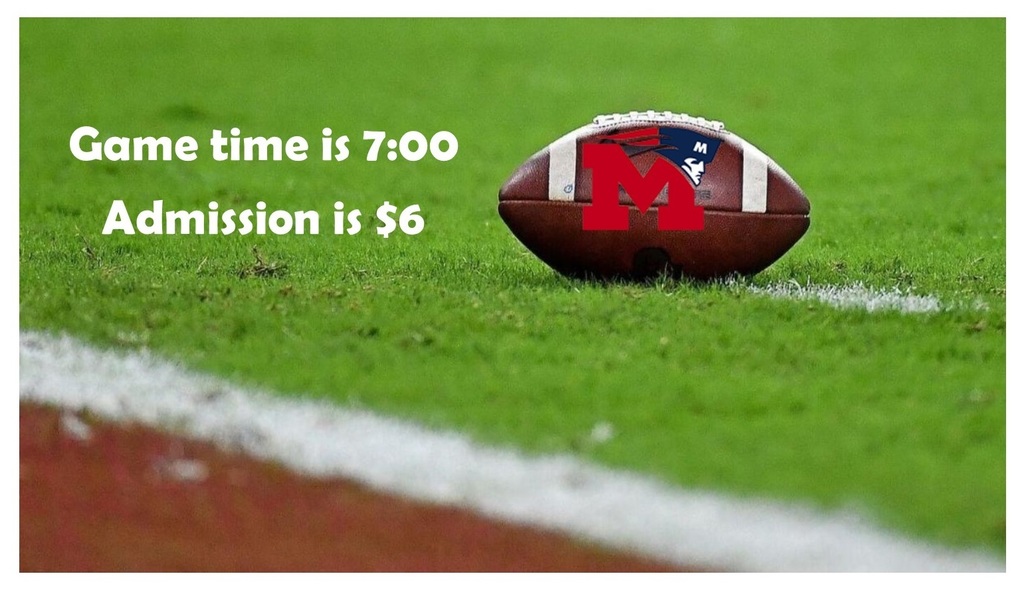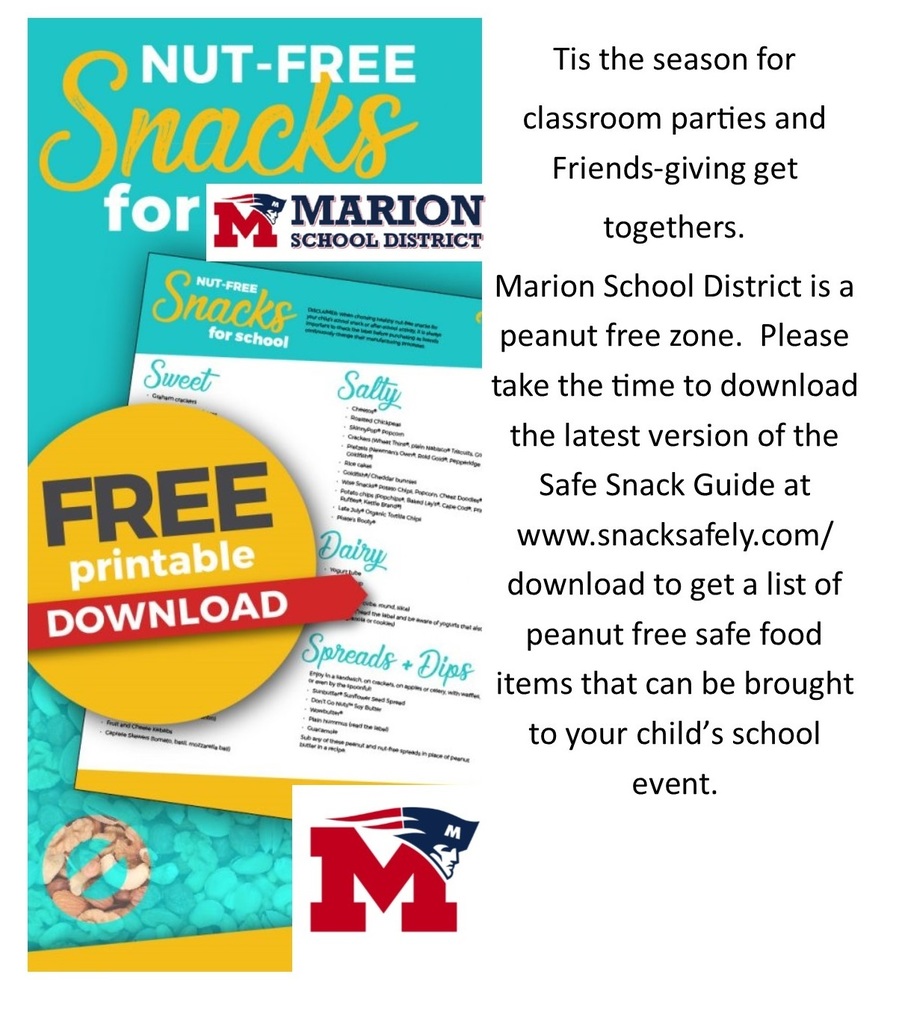 Good evening Marion Patriots, Due to the forecast for frigid temperatures, near record- level wind chills and possible frozen precipitation for tomorrow morning – MSD will delay school start time tomorrow- Tuesday,  November 12-  until 10:00 a.m. Bus routes will run 2 hours later than normal.    We do apologize for any inconvenience this may cause for some, but the safety of our students, faculty and staff remains a top priority for our School District.

Fall Senior Night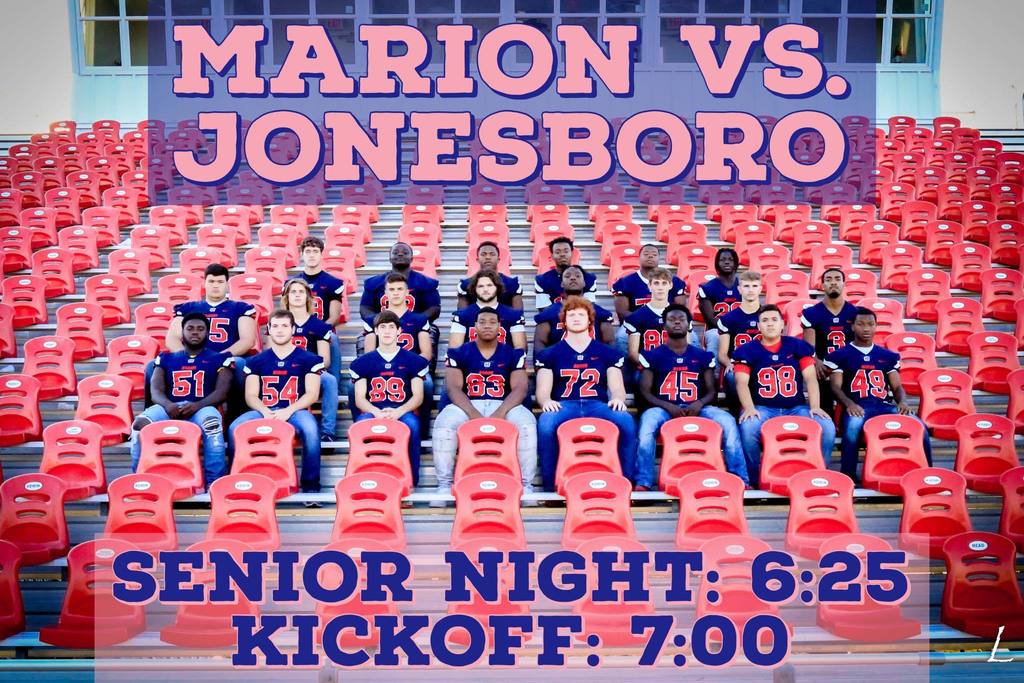 Día de los Muertos is a Spanish tradition. It is believed that when a person passes away family and friends create an Ofrenda for their loved one to come back and enjoy once a year. Children, teenagers and pets are remembered on November 1st., and adults on November 2nd. Ofrendas typically include: a loved one's picture, papel picado, candles, flores de cempasúchil, soap, water, pan de muerto, and calaveras de azúcar. Each ofrenda is customized by adding the loved one's favorite food, drinks, and mementos. Spanish II students created shoebox Ofrendas for themselves to see in 100 years from now!! 🖤🏵💀🕯 A dedication to the deceased Day of the Dead (Dia De Los Muertos) is a two day holiday that reunites the living and dead. Families create ofrendas (Offerings) to honor their departed family members that have passed. These altars are decorated with bright yellow marigold flowers, photos of the departed, and the favorite foods and drinks of the one being honored. The offerings are believed to encourage visits from the land of the dead as the departed souls hear their prayers, smell their foods and join in the celebrations! Day of the Dead is a rare holiday for celebrating death and life. It is unlike any holiday where mourning is exchanged for celebration. FOR MORE PICTURES CLICK THE LINK BELOW...
https://drive.google.com/open?id=1ulzwpXkf1AhDkpccA8UTJSrdTuy2V_VA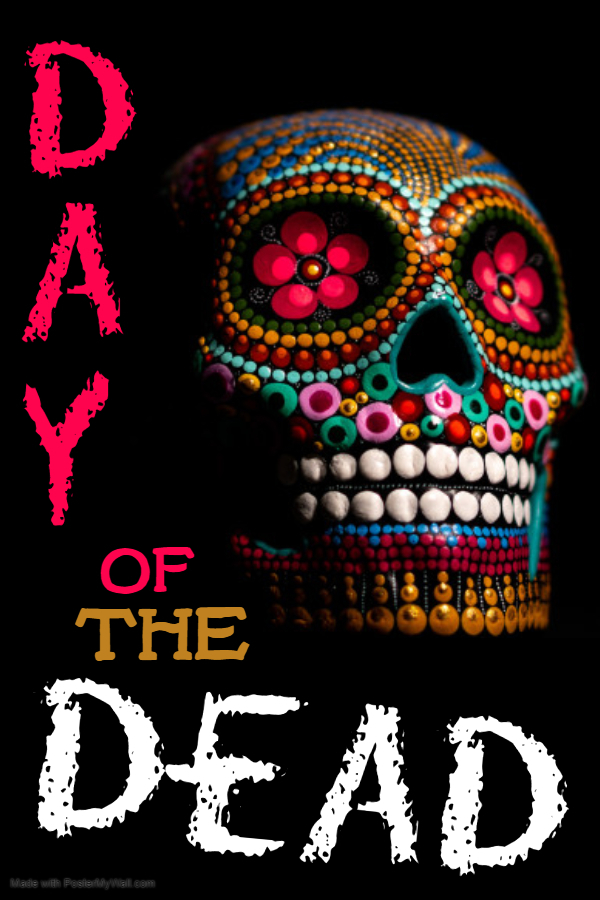 Tickets are still available at MSD Central Office until 4 p.m. or at the door tomorrow night.

Good evening Patriot Parents, Tomorrow, your student will bring home a paper packet of work. These packets will have 5 days worth of work. This work will be used in the event the district is closed due to inclement weather or for any other reason. There will be a cover sheet explaining the procedure on how and when to complete the work. Please keep these packets in a safe place. If you have any questions please call your building administration. Thank you and have a wonderful evening.

💗October is Breast Cancer Awareness month and the MHS Patriots took time to honor survivors and lost loved ones. ❤️💓💙🏈 Big shout out to the mommas, grandmas, cousins and aunts! 💗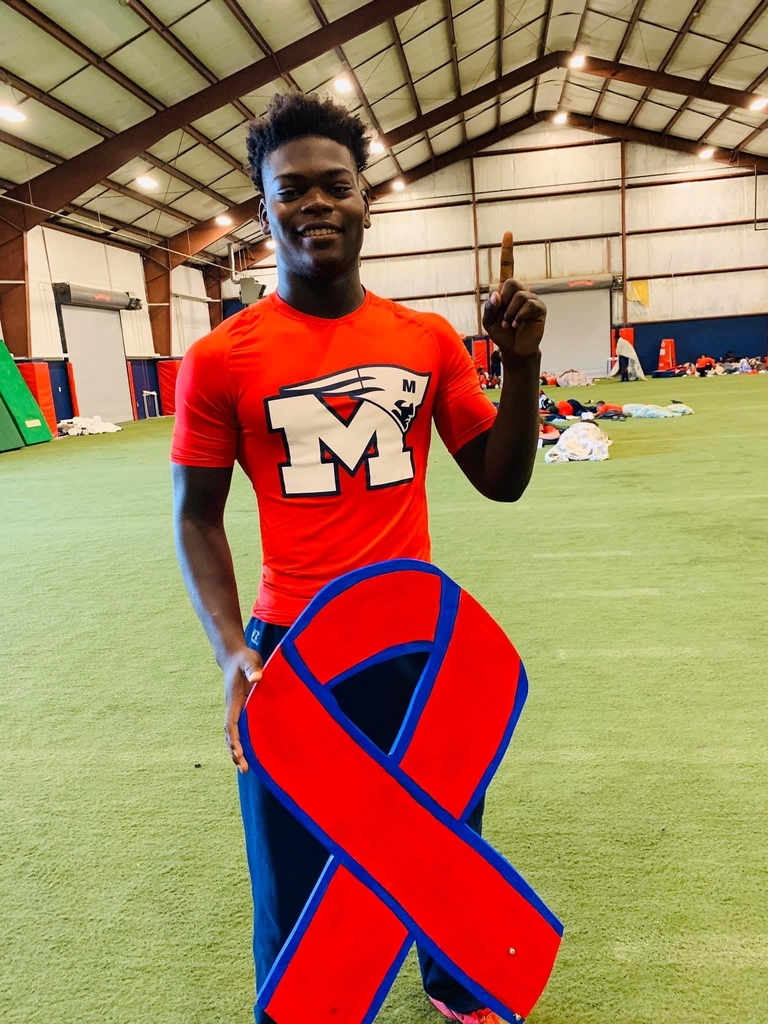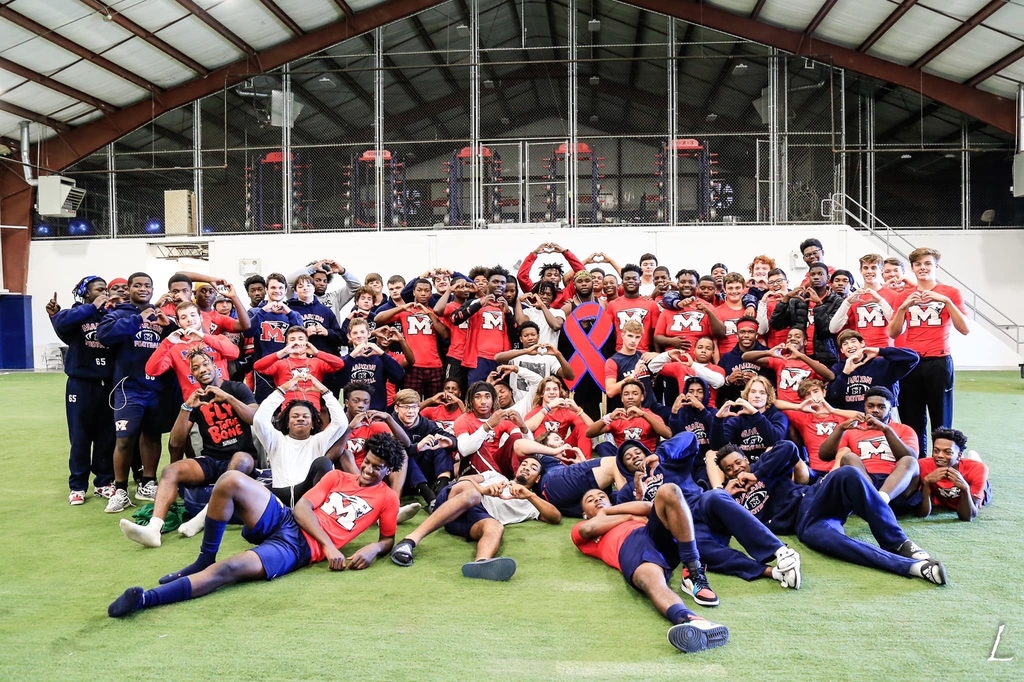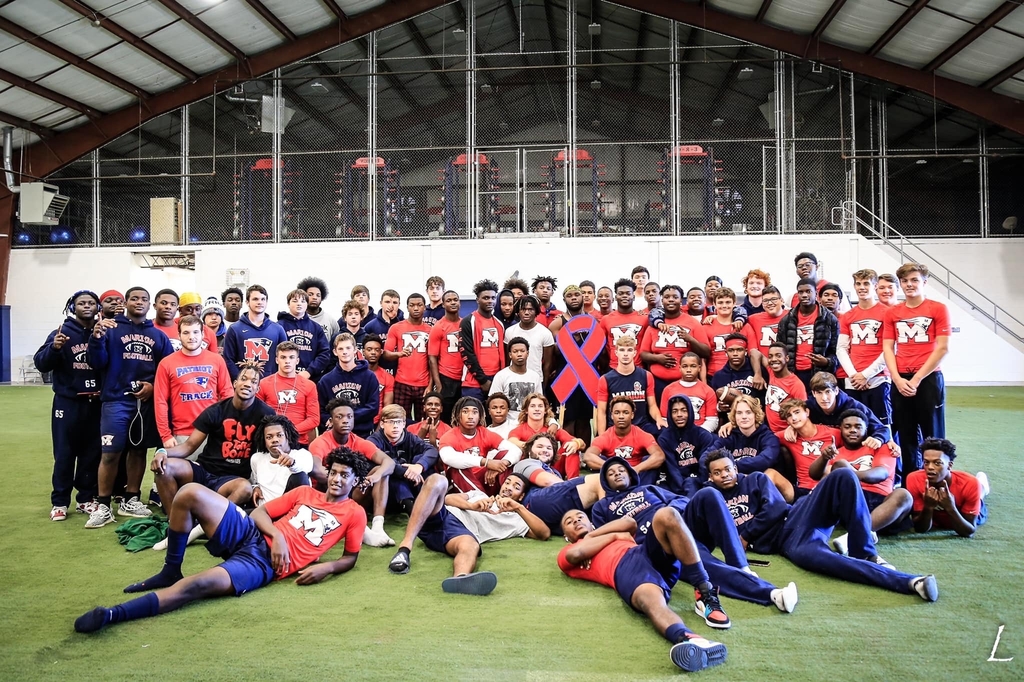 💙❤️BETTER LATE THAN NEVER!!💙❤️ It's been a busy week, but not too busy to celebrate the folks that help make MHS what it is today!! 🤗🤗🤗HAPPY BOSS'S DAY to our FABULOUS ADMINISTRATORS!!! 🎉🎉 🎉❤️❤️Celebrating with Beans, greens, cornbread & cake! 🎂 We can't say it enough, OUR BOSSES ARE GREAT! 🤗❤️ Not pictured: Emily Hall